.: Modeling the Cathedral of St. John the Divine :.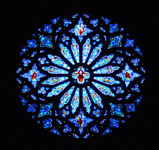 Zachariah Munoz, 3D modeling
We are using the Cathedral of the St. John the Divine as a key testbed for developing new collaboration and visualization tools for art and archaeology, including immersive 3D user interfaces. However, when we started our work, we discovered that there was not only no 3D model of the Cathedral, but no complete plans showing the structure in its present state. The Cathedral has been under construction since 1892, and since then many changes have been made to the original design by George Heins and Christopher Grant Lafarge.
To accurately model the Cathedral, we have used the existing plans and blueprints, many old and new photographs, and some information from 3D laser range scans done by Peter Allen's research group. The modeling project was led by Hrvoje Benko, with modeling by Zachariah Munoz. Many thanks also go to Gabor Blasko for his help and suggestions with rendering. The work presented here has been done using tools donated by Alias Systems, a division of Silicon Graphics Limited.
Our modeling was focused primarily on the choir, due to its interesting construction history. More information about the Cathedral's history and construction, as well as the proposed visualization scenario for this model (by art historian Stephen Murray) can be found at a site created by James Conlon of the Visual Media Center.
Tech report (

) on how the modeling took place is available courtesy of Zachariah Munoz. [copyright]
A view of the modeling process.

Architectural plans and elevations were used to extract the 3D shapes and create the model of the entire structure.

View of the unfinished choir.

Side view of the unfinished choir.

The choir ceiling.

The entire choir.

The choir ceiling.

Texture-mapped view of the choir.

Another rendered view of the choir.
This project is funded in part by NSF Grants IIS-0121239 and IIS-00-82961, and Office of Naval Research Contracts N00014-99-1- 0394, N00014-99-1-0683, and N00014-99-1-0249.

Any opinions, findings, and conclusions, or recommendations expressed in this material are those of the authors and do not necessarily reflect the views of the NSF or any other organization supporting this work.